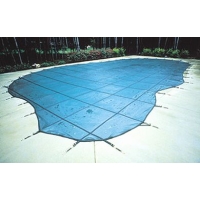 GLI- Secure-A-Pool Safety Cover
16' x 32' Rectangle
SECURE:
As defined in American Heritage Dictionary, it means "free from danger or risk of loss; safe." Our safety covers keep your pool clean and safe during the off-season by guarding against accidental intrusion by children, pets and other animals.
Strong "safety minded" construction - Secures pool against accidental intrusion by children and pets
Tamperproof design! Cover cannot be removed inadvertently without installation rod.
Made from tough UV inhibited polypropylene fabric! Lasts longer, resists tearing, rotting and stretching.
Open mesh construction! Allows water and snow to filter through, screening out leaves and other debris.
Stainless steel & brass hardware!
Lightweight! Easy to handle.
User-friendly! Can be installed or removed in minutes.
Taut, Tailor-made fit! Enhances beauty of pool during off-season.
10-year warranty! Worry-free dependability.
Cost efficient! Saves costly seasonal maintenance (i.e. painting, plastering, etc.).
Available in blue or green.
Meets or exceeds safety cover performance standards as set forth in ASTM F 1346-91
Custom fit for your in-ground pool
Made in the U.S.A.
Custom shapes and sizes available. Please contact us for more information.