Filtration
Product Categories
Pentair Quad DE Filter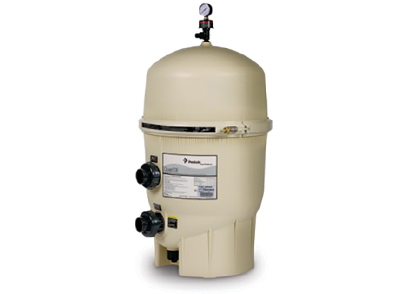 The Highest Water Clarity with the Lowest Amount of Fuss. Quad D.E. filter combines the finest filtration available for the most sparkling clear water with the convenience and easy-cleaning features usually found only in a cartridge filter. Four easily accessible and removable D.E. cartridges simplify maintenance and save time. Ships FOB Factory.
Features
NSF listed
Four large-capacity cartridges provide maximum filter surface area for greater dirt-trapping capacity and longer periods between cleanings
Unique internal flow path ensures optimum filtration and backwashing efficiency
Chemical resistant, fiberglass reinforced polypropylene tank for exceptional strength and long life
Easily removable cartridge elements make maintenance fast and easy
Water flows through the Quad D.E. so efficiently that your pump will use less energy
All online sales of this product are limited to a 60 day warranty.
Visit Pentair Pool Products for complete information.