Safety Equipment & Supplies
Product Categories
Hayward 18" x 18" High Flow Drain Grate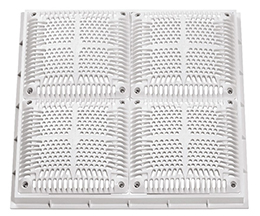 Whether the application demands frames and covers for new construction or replacement cover assemblies for existing installations, Hayward suction outlets set the standard for quality and value. Hayward's new Low Velocity suction outlets are specifically designed for applications with requirements limiting the maximum flow velocity to 1.5 feet per second. In addition, Hayward's High Flow covers have some of the industry's highest ASME approved flow rates. Each size and flow design cover retrofit to existing Hayward frames and are designed for an extensive 7 year life span. All Hayward WG Series suction outlets and replacement covers are VGB compliant and are tested to ASME A112 19.8b-2009 and ANSI/APSP-16 standards as well as meeting CPSC requirements. Approved for floor and wall use. 18" frame takes four 9" replacement covers.
Flow Rate: 812 GPM - Floor, 732 GPM - Wall
Visit Hayward for complete information.